Zoom
Welcome
The next meeting is on...........
1 month to go
Coming Up Next...
Depwade Deanery Walk | 11th September 2022
Sun, 11 Sep, 2022, 4pm @ Seething
Depwade Deanery Walk | Sunday 11th September 2022 4:00pm at Seething Village Hall
The Depwade Deanery walk will start at 4:00pm from Seething Village Hall car park and will be followed by Tea served in Seething Village Hall at 5:00pm and the Deanery Service at 6:00PM IN St Margaret's Church, Seething.
Please come along and enjoy meeting others from the Deanery.
You are a welcome to attend any one of the events or all three.
Contact Frances for more details - 01508 498157
More events across the villages »
Latest News/Feature...
Easter Sunday 17th April 2022
Posted: Thu, 14 Apr, 2022 (4 months ago) by Lizzie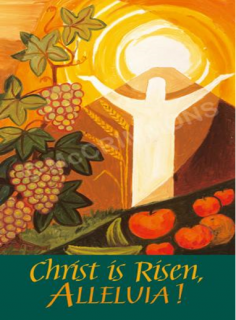 Hello Everyone,
Last Sunday was Palm Sunday, many people in the Group and around the world gathered to remember Jesus triumphal entry into Jerusalem waving branches. This Sunday we celebrate Easter, the empty tomb and Jesus risen life.
Between these two events is Maundy Thursday and Good Friday.
This year the week leading up to Jesus' death is lived in the shadow of the war in Ukraine and other conflicts that have slipped from the news headlines. Others are living with Covid and its consequences, many are worried about how they will cope with increasing pressures of different kinds.
On these days you are invited to join with those for whom the words of Jesus from the cross ring true, "My God, My God, why have you forsaken me?"  We do so in the knowledge that ours is an Easter faith that brings hope and assurance to the darkest places of our world today. Easter says, darkness, death, hatred and evil do not have the last word.   
May we all know the love, hope and joy of Easter in our hearts for
Alleluia, Christ is Risen. He is Risen indeed, Alleluia.
With love
Liz
More Recent News & Features

Palm Sunday 10th April 2022 (4 months ago)

Sunday Email (4 months ago)
More news & features for Zoom »
More news & features across the villages »
Dashboard
Email Updates
Always be the first to know. Tailor your email update to suit your preferences. You can set it to check for updates to the site at a frequency that suits you. You will only be mailed when there is new content.
Sign up / Sign in »
Get in touch
Comments? Good or bad experiences of the site?
Phone: 01508 498157
Email:
Online contact form »